About Wisconsin Sauna
Put a Sauna Anywhere!
Wisconsin Sauna is based out of the Northwoods tourist town of Hayward Wisconsin! The owners are a husband/wife team Beau and Bethany Petersen. Along with their great staff they operate Wisconsin Sauna, which is also part of Wisconsin Surf
Wisconsin sauna provides mobile sauna rentals delivered to your location and they also offer one hour sauna reservations at their downtown Hayward shop location. If you are looking to own a sauna, that is a great option. You can purchase a backyard, indoor or mobile sauna! Stop in Wisconsin Sauna/Wisconsin Surf to order your perfect sauna!
Explore Hayward, Wisconsin in a Sauna
Hayward Wisconsin has always been known for many great summer lake activities. But folks around here like to stay warm too! No matter what time of year, we want you to experience this beautiful area by providing memorable outdoor experiences in more ways than one! Just an hour south of Lake Superior, Hayward has many outdoor opportunities and scenic settings to experience in a sauna. Even if it's in your own back yard!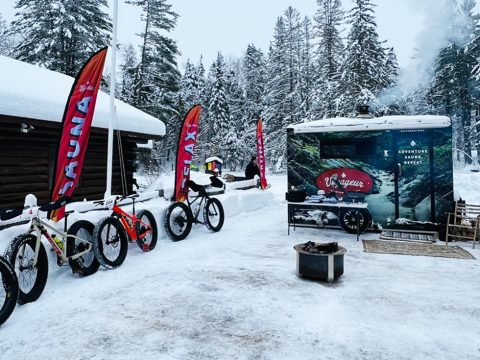 As the shop owners Beau and Bethany also provide travel planning, photography and videography. As a travel agent Bethany loves to help plan fabulous vacations through Superior Travel Planning. As a photography and videography team Beau and Bethany capture weddings, portraits and commercial projects through Beau Petersen Photography. Opening a Surf Shop allowed us to continue to help people and provide a fun addition to our customers next adventure. If you are traveling to Hayward we provide a rejuvenating sauna experience! We also provide Paddle North gear for fun on our many lakes and rivers. If you are traveling afar and need flights and lodging and rental car, we can help you with that too! We love people and want to help you plan a fantastic vacation or create a fun Hayward experience!