Our Saunas
RESERVE A PRIVATE SAUNA SESSION
We now offer private sauna session reservations at our show room location in downtown Hayward Wisconsin Surf + Sauna. Contact us today at 715-222-0363 to reserve a one hour sauna experience for yourself. Bring a swimsuit, a towel and water. We will provide a clean sauna, hot wood fire sauna stove with extra wood and steam bucket. We have a bathroom and changing room for you to use. Bring a friend and share the cost, sauna is a very enjoyable social experience. One hour sauna sessions are $100.
Custom Design & Purchasing Options
Looking to get your own Portable Sauna, Backyard Sauna or Indoor Sauna? Let us help you get started. Learn about the different styles, features and many customization options that are available. We work directly with the manufacturer, giving you exclusive access to the most options and best prices. Contact us today, or stop in to get started.
P
ortable Sauna Rentals
Explore a new way to get outdoors in a Sauna. Now you can take a Sauna anywhere. We offer Mobile Sauna Rentals out of our Hayward, Wisconsin location. Let us help you plan or schedule a Sauna Rental Package. Contact us today, or stop in to get started. Mobile sauna rentals are $250 for the first day and $200 for the second day, two night minimums for weekend rentals and we offer discounts for 3+ day rentals. We provide a bundle of wood for each day, but feel free to have more wood on hand for more sauna.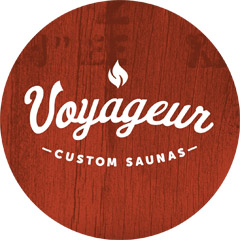 Featuring Exclusive Brands like Helo and Voyageur Saunas
We are proud to feature Mobile Saunas from Voyageur Custom Suanas. Each Sauna is custom built out of their Minnesota location with not only high quality materials, but craftsmanship as well. We also feature Helo stoves as well as KUUMA and IKI wood burning options to power your Sauna.